S31803, 1.4462 Seamless Pipe/Tube The Third Lot Delivered to Mersin
1st July 2020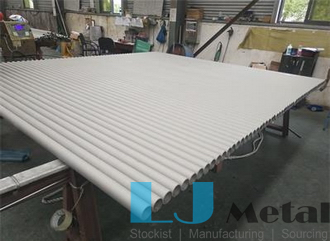 Specification: ASTM A790/EN10216-5
Steel Grade: S31803, DIN 1.4462
Sizes: 60.3mm WT: 3.5mm Length: 3170mm
Delivery Condition : Anealed and Pickled, Beveled Ends
Packing: Packed in bundles.
Quantity: 3850 Pcs / 62 tons
Delivery Time: 30days
Application: Cooling Tower For chemical industry
The pipes are being inspected
This is the third lot and the last lot of the A790 S31803 / 1.4462 seamless pipe order. It takes about 30days to finish 3850 pieces to catch the LC shipping date.

Just same as the two previous order, the pipes passed SGS inspection without non-conforming, which allows the fast shipment.

We are delighted that the three orders are delivered smoothly and with accurate delivery time, and the most importmant, with good quality. Thanks for the dedication of our workers and other staff, and thanks to our respected customer, hope we could win repeat orders by providing good price, fast delivery, and excellent quality.
Inspection, Packing And Loading
Relevant Specifications
ASTM A790 - Standard Specification for Seamless and Welded Ferritic/Austenitic Stainless Steel Pipe
EN10216-5 - Seamless Steel Tubes For Pressure Purposes Technical Delivery Conditions Part 5: Stainless Steel Tubes
ASTM A999 / A999M - Standard Specification for General Requirements for Alloy and Stainless Steel Pipe
ASTM A1016 / A1016M - Standard Specification for General Requirements for Ferritic Alloy Steel, Austenitic Alloy Steel, and Stainless Steel Tubes
ASTM A370 - Standard Test Methods and Definitions for Mechanical Testing of Steel Products
A262 - Practices for Detecting Susceptibility to Intergranular Attack in Austenitic Stainless Steels
ASTM E112 - Test Methods for Determining Average Grain Size
A941 - Terminology Relating to Steel, Stainless Steel, Related Alloys, and Ferroalloys
Get Contact With Us
You need a quote? Contact us, no matter what quantity and material, you will get instant response and proffesional offer.