ASMT A790 UNS S32205/S31803 Duplex Welded Pipe For Malaysian Customer
18 September 2018
Specification: ASTM A790
Steel Grade: S32205/S31803
Sizes: OD:20"(508MM) , WT: SCH5S(4.78mm)
Delivery Condition : Anealed and Pickled.
Packing: Packed in bundles with end caps.
Quantity: 17.3tons
Delivery Time: 30days
Application: Pulp And Paper Mill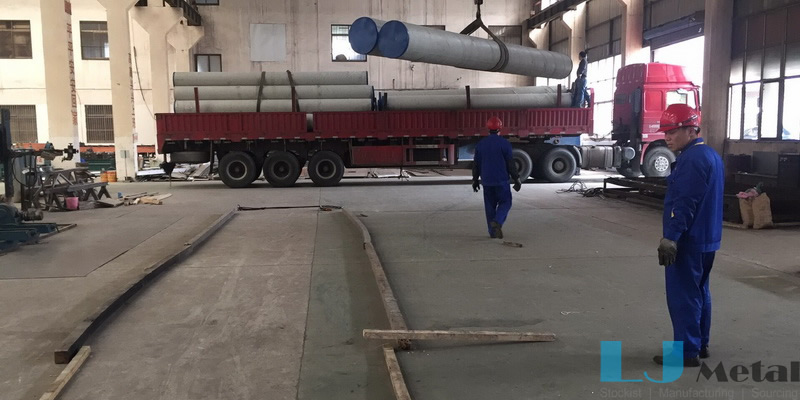 S31803 welded tube 20" Sch5s
S31803/S32205 welded pipe 20" Sch5s
The duplex pipes are used for transportation of pulp in a paper factory, the customer purchased 2-3 times a year for their projects in Malaysia, duplex steels are with both good strength and good resistance to corresion, and the materia is much cost efficient. Duplex Steel tubes are also widely used in boiler and heat exchangers equipments.

We could supply duplex steel S31803/S32205 and super duplex steel S32750, S32760. both seamless and welded pipe are available with very short delivery and competitive price.

Also there are more than 1000tons of ready stock for such specialty steel pipes in warehouse, you are welcomed to check the availability for your size.
Inspection, Packing And Loading
Relevant Specifications
ASTM A790 / A790M - Standard Specification for Seamless and Welded Ferritic/Austenitic Stainless Steel Pipe
ASTM A999 / A999M - Standard Specification for General Requirements for Alloy and Stainless Steel Pipe
ASTM A1016 / A1016M - Standard Specification for General Requirements for Ferritic Alloy Steel, Austenitic Alloy Steel, and Stainless Steel Tubes
ASTM A370 - Standard Test Methods and Definitions for Mechanical Testing of Steel Products
A923 - Test Methods for Detecting Detrimental Intermetallic Phase in Duplex Austenitic/Ferritic Stainless Steels
ASTM E213 - Practice for Ultrasonic Testing of Metal Pipe and Tubing
ASTM E426 - Standard Practice for Electromagnetic (Eddy Current) Examination of Seamless and Welded Tubular Products, Titanium, Austenitic Stainless Steel and Similar Alloys
A941 - Terminology Relating to Steel, Stainless Steel, Related Alloys, and Ferroalloys
Get Contact With Us
You need a quote? Contact us, no matter what quantity and material, you will get instant response and proffesional offer.