A182 904L Slip On Flanges According to B16.5 And 904L Seamless Pipes According A312 Shipped To Africa
18th Oct. 2020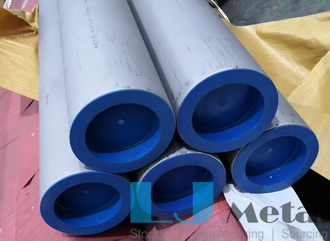 Specification: ASTM A312 / B16.5 / A182
Steel Grade: 904L / 1.4539
Sizes: OD:6" to 12", WT: SCH XS
Delivery Condition : Anealed and Pickled.
Packing: Packed in plywood cases and in bundles
Quantity: 75 Meters Pipes and 51 Pcs Flanges
Delivery Time: 75days
Application: Chemical Equipments
Term: FOB Shanghai
This Order contains some large diameter and heavy 904L seamless pipes and A182 904L slip-on flanges according to B16.5 CLASS 150. Flanges were finished within 15days, and most pipes were finished within 30days because we have sufficient ready stock 904L round bars in ready stock. But our factory had a accident when produced the large and heavy 904L seamless pipes with 323.8 outside diameter and 12.7 mm wall thickness. The mother pieps pierced from round bars are with cracks, so they are rejected and we have to prpare new round bar to make mother pipes, it makes us 20days' delay of delivering the pipes, And makes our valued customer get their shipment date on LC revised. We feel sorry for the delay, sometimes delay happens due to some unpredictable reasons. Then the frequent update report from factory is very important for customers.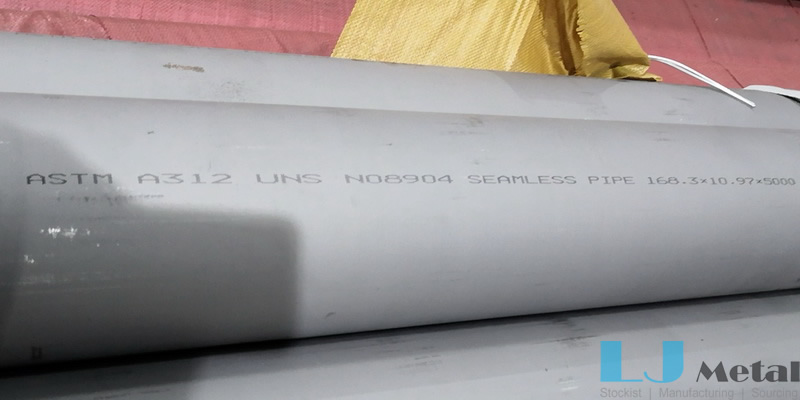 Pipe Marking
Thanks to our workers overtime working during the National Day Holiday, we finished the larege pipe 323.8*12.7 and catched the latest vessel. Production is a complex thing, especially for the not regular size and materials. When delay comes, the first thing we have to do is to let customer now the situation, and to help us to confront the situation together, I think most of the time customer will stand with us if we show our sincerity to solve problem.

Inspection, Packing And Loading
Relevant Specifications
ASTM A182 - Standard Specification for Forged or Rolled Alloy and Stainless Steel Pipe Flanges, Forged Fittings, and Valves and Parts for High-Temperature Service
ASME B16.11 - Forged Fittings, Socket-Welding and Threaded
ASME B16.5 - Pipe Flanges And Flanged Fittings
ASTM B677 - Standard Specification for UNS N08904, UNS N08925, and UNS N08926 Seamless Pipe and Tube
ASTM A312 / A312M - Standard Specification for Seamless, Welded, and Heavily Cold Worked Austenitic Stainless Steel Pipes
ASTM A999 / A999M - Standard Specification for General Requirements for Alloy and Stainless Steel Pipe
ASTM A1016 / A1016M - Standard Specification for General Requirements for Ferritic Alloy Steel, Austenitic Alloy Steel, and Stainless Steel Tubes
ASTM A370 - Standard Test Methods and Definitions for Mechanical Testing of Steel Products
A262 - Practices for Detecting Susceptibility to Intergranular Attack in Austenitic Stainless Steels
ASTM E112 - Test Methods for Determining Average Grain Size
A941 - Terminology Relating to Steel, Stainless Steel, Related Alloys, and Ferroalloys
Get Contact With Us
You need a quote? Contact us, no matter what quantity and material, you will get instant response and proffesional offer.