904L Seamless Pipes According To ASTM A312 Delivered To Africa
16th Dec. 2019
Specification: ASTM A312
Steel Grade: 904L
Sizes: OD:3/4"(26.7mm) to 6", WT: SCH40S-SCH80S
Delivery Condition : Anealed and Pickled.
Packing: Packed in plywood cases with end caps.
Quantity: 2tons
Delivery Time: 30days
Application: Phosphate ore project
Term: FOB Shanghai
Surface and sizes checking
This is a repeat order for a mining project, it is with five different size, and each size is with small quantity, generally it is not available to arrange production for special materials with such quantity. But our factory arranged production for this order, we are specilized in production special materials as 904L, S31803, S32750, Tp310S, TP347H, it holds large quantity of special stainless steel raw materials and various sizes of ready stock, so we could supply you special materials within short time even with a single piece.

The pipes are with very good surface, they are packed with PVC bag first, then packed in plywood cases, it could prevent water and damage during LCL transportation. We are experienced to produce special material pipes as 904L, duplex and super duplex stainless steel pipe, 310S pipes, and know how to maintain a good surface by controlling the heat teatment and pickling process for different materials.

Our advantage products are 904L, duplex/super duplex materials(S31803, S32205, S32750), TP310s, 254SMo, and other materials, all are with very good price and deliver, we are looking forward to your inquiry.
Inspection, Packing And Loading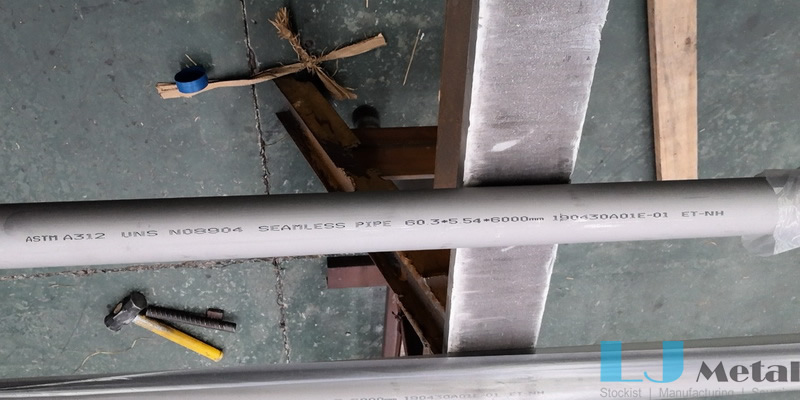 Relevant Specifications
ASTM B677 - Standard Specification for UNS N08904, UNS N08925, and UNS N08926 Seamless Pipe and Tube
ASTM A312 / A312M - Standard Specification for Seamless, Welded, and Heavily Cold Worked Austenitic Stainless Steel Pipes
ASTM A999 / A999M - Standard Specification for General Requirements for Alloy and Stainless Steel Pipe
ASTM A1016 / A1016M - Standard Specification for General Requirements for Ferritic Alloy Steel, Austenitic Alloy Steel, and Stainless Steel Tubes
ASTM A370 - Standard Test Methods and Definitions for Mechanical Testing of Steel Products
A262 - Practices for Detecting Susceptibility to Intergranular Attack in Austenitic Stainless Steels
ASTM E112 - Test Methods for Determining Average Grain Size
A941 - Terminology Relating to Steel, Stainless Steel, Related Alloys, and Ferroalloys
Get Contact With Us
You need a quote? Contact us, no matter what quantity and material, you will get instant response and proffesional offer.